Danish Genetics faher line
The Danish Duroc produces fast-growing slaughter pigs that are characterized by low feed consumption and a high meat content.
That is why he is part of the Danish Genetics breeding program on the father side.
When mated with original Danish hybrid sows (LY / YL) he can pass on his excellent fattening and carcass characteristics in full.
All boars that are sent to KB stations have been thoroughly checked beforehand. The foundation / physique and meat content are assessed. Furthermore, a registration of the daily increases is made.
This test will be carried out both in the farms and at test stations in Denmark, although in the foreseeable future it will only be tested on the farms. The background to this is the minimization of the health risk when boars from different farms come together at test stations. Danish Genetics is currently the only Danish breeding program that can deliver 100% PRRS negative breeding animals. This status should of course be maintained.
Please also read the following article:
Work is currently underway to develop a breeding index against boar taint as part of the breeding value assessment. The goal here is to produce Duroc boars that are free of boar odor and thus deliver top quality pigs.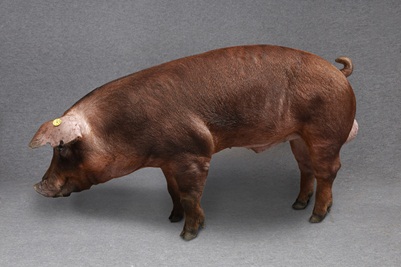 This is what distinguishes the Danish Duroc:
strong legs
high meat content
good meat quality
best feed utilization